Permaculture Design Certification Course (VerdEnergia)
January 25, 2022

-

February 8, 2022
Event Navigation
Join us this season for an immersive educational experience in the Costa Rican rainforest! Come learn to create sustainable places, lifestyles, and communities at our beautiful and rustic forest farm and developing ecovillage.
Permaculture courses at VerdEnergia are a convergence of dynamic people coming together to deeply share from their diverse range of experiences. We welcome you to join our unique learning community and connect with our expansive teaching team, whose experiences span multiple continents and cultures.
VerdEnergia is a multicultural outpost that serves as a unique hub of cultural exchange and ecological conservation within the rural campo of Costa Rica. Our farm is situated within 170 acres (69 ha) of reforested jungle, thus providing an ideal setting to observe multiple stages of permaculture design and the convergence of the reforestation process.
Our project is rare in the permaculture world because of its emphasis on economically productive agroforestry and the production of natural food products for market. Crops grown in our fields become part of a larger supply chain of regenerative agricultural products, which are processed and sold in partnership with our sister company, Blacksheep.
We also harvest much of the food we eat from the land, which includes familiar cultivated crops and wild harvested jungle plants. In all, we've been working with our neighbors since 2006 to regenerate land, bolster our local economy, and provide access to experiential permaculture education to people from all over the world. Taking your PDC with us connects you to the work and team of Blacksheep, so those wanting to start or join regenerative projects can learn about valuable potential collaborations.
In addition to exploring our own food forest, we will also have opportunities for in-depth discussions of other real world examples of permaculture implementation. While this course is taught in English, one of our main instructors is fluent in both Spanish and English, so students with medium English language skills but strong Spanish can also attend.
Whether you're from a temperate or tropical climate – anywhere in the world – our course will provide relevant knowledge for location appropriate design.
Subject Areas
The standard permaculture design certificate is based on a globally established 72 hour curriculum. Before the course, we provide students with written and video content to review independently. This ensures that students arrive with some basic knowledge, allows us to progress at a higher level than most PDC's, and leaves more time for experiential activities on the land.
Our course is a great match for anyone interested in using permaculture in their own life and is applicable to many professions that benefit from experience with holistic sustainability. The United Nations Environmental Programme calls for a shift to agroecology to solve the climate crisis and combat poverty and food insecurity. We draw extensively on lessons from agroecology that expand beyond common permaculture techniques.
Philosophy, Ethics, and Principles of Ecological Design
Multi-Cultural Worldviews of Nature
Site Analysis and Master Planning for Sustainable Homesteads
Natural Pattern Identification and Use
Regenerative Agricultural Systems
Basics of Botany and Horticulture
Plant Propagation and Pruning Techniques
Soils Fertility and Composting Systems
Decision Making for Landscape Design
Rainwater Catchment and Water Storage
Green Building, Renewable Energy, and Appropriate Technology
Agroecology, Agroforestry, Food Forest Systems
Community and Ecovillage Design
Urban Planning Applications for Sustainable Cities
Social, Political, and Economic Permaculture
Design Project Management
Temperate, Tropical, Drylands Climates
Wellness, Mindfulness, Spirituality, Plant Medicines, and Natural Healing
Career Opportunities in Permaculture and Related Fields
Instructors
Our instructors come from the U.S. and Costa Rica, and bring with them a huge range and depth of educational and professional backgrounds. Among our teaching team is experience in farm management, ecovillage design, community planning, deep ecology, urban sustainability planning and grassroots organizing, forest protection, environmental policy, project management, directing non profits, and working with indigenous land based cultures. Our teachers also have a range of skills in other areas of life, such as music, meditation, adventure traveling, and group facilitation.
Marc Tobin (He/Him)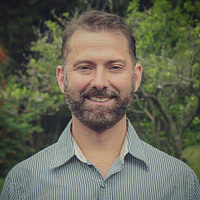 Marc has been designing and teaching permaculture and ecovillage design courses since 2004. Some of the areas that he focuses on include systems dynamics, social permaculture, urban planning, ecological impact assessment, community and ecovillage design, project management, mindfulness, non-violent communication, and group facilitation. He has been connected with VerdEnergia and spending time in Costa Rica since 2015.
From 2014-2017, Marc was the Executive Director of The City Repair Project, in Portland, Oregon, a leading organization transforming public space through community engagement, village building, arts, and regenerative design. Before that, Marc directed the Ecovillage and Permaculture Education program for Lost Valley/Meadowsong Ecovillage. He has also worked in appropriate technology, renewable energy, forest protection, and environmental education for children.
Marc holds a Masters degree in Community and Regional Planning from the University of Oregon and a BA in Environmental Studies from Naropa University. He took his first PDC in 1996 in Boulder, Colorado. Marc is also an avid musician with live performance experience and during his visits he often shares his music and facilitates jams.
Jose Pablo Fernandez (He/Him)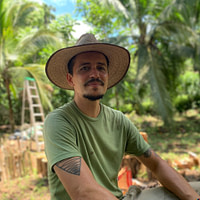 Jose Pablo Fernandez is a Permaculture designer, environmental educator and artist from Costa Rica. His journey started as a nature guide learning about the wildlife of the rainforest and the cycles and dynamics of nature. Jose Pablo is trained in organic and regenerative agriculture, forest gardening, ecosystem regeneration, ecological landscape design, sociocracy and sustainable eco-communities.
He has over 15 years of experience designing and teaching Permaculture in Ecuador, Guatemala, Nicaragua  and throughout Costa Rica. Living and being the steward of projects like Finca La Flor, Finca Paraiso Verde, Finca Inspiracion, Posada Natura, Punta Mona Center and other community based initiatives.
Jose Pablo is a member of Red Permanezca, a Costa Rican permaculture network dedicated to share and spread permaculture methodologies and lifestyle through events like workshops, seed swaps and work parties (mingas). He has co-organized with the network several PDC courses taught in Spanish with focus on local people and two nation-wide Permaculture Convergences. He is the founder of Holograma Permacultura, design and education for sustainable living.
Class Structure
Our teachers implement multiple teaching modalities for different styles of learning. We provide a blend of lectures, activities, discussions, field work, and demonstrations to ensure maximum understanding of the material with minimal fatigue. A defining feature of a PDC is the final design project, where students get to practice design. In this final project, students have the opportunity to go through the stages of site analysis, client interview, brainstorm, design decision making, creating compelling graphics for a master plan, presenting the design to a group, and receiving feedback.
Daily Schedule
Students meet for an early morning session before breakfast and another before lunch. Early afternoons are for relaxing and reflecting before another afternoon class session, just after the heat of the day has passed. Dinner is served just before dark. Our meals are taken in the garden around our spring fed swimming pool. Select evenings are reserved for movies and documentaries that explore topics discussed in class in further detail. During time off you can go for a swim in our river, waterfall or pool; walk jungle trails; enjoy the views from one of our beautiful vistas; do yoga or dance in our studio; make art; play music; check out a local soccer game; or simply relax in a hammock with a good book from our farm library.
A Day in the Life
Catch a glimpse of one of our PDC students, Shivani, reflecting on her observation walk, a typical activity in a day in the life of a student.
Accommodations
Included in your stay is a bed in our shared dormitories. These freshly renovated spaces are comfortable, bright, and open-air; with mosquito nets, ceiling fans and bunk beds. We provide a pillow, sheets and a light blanket. Camping is an option if you want more privacy during certain times of the year (costs are the same), but you will need to bring your own gear and bedding. Please check with us before planning to camp. We also have limited upgrades to our fully furnished, open-air private rooms for an additional cost.
Meals
Your stay includes all of your meals on site. We are proud to highlight traditional Costa Rican cuisine with a few twists and eat farm-to-table as much as possible. We rotate cooking responsibilities in teams, using food that we've grown on our own farm or purchased locally, with a preference for high quality organic.
All of our animal products come from locally raised, pastured animals. Reasonable accommodation for vegetarians, vegans and those with food allergies can be made. Please indicate your needs in your registration and upon your arrival.
Transportation & Travel
Transportation to the site isn't included in your registration cost, but we need to help you navigate here! We are in a remote location that requires you to coordinate your arrival with the team onsite. Transportation on and off the farm must be arranged in advance. Please note that we are about a 2.5 hour drive from the SJO Airport.
Pricing & Timeline
Students are asked to be on site by 2pm of the 25th, and asked to leave the site by 11am of the 8th unless other arrangements are made. This all-inclusive experience includes lodging in our shared dormitories, meals, and access to all facilities.
$800 : Costa Rican citizens
$1175 : Residents of Costa Rica (non-citizens)
$1450 : General
We have limited upgrades to private lodging available for +$420 for the duration of the course. Interns for our January-April program are offered a discounted rate of $600.
Details
A non-refundable $400 deposit is due upon your registration to secure your spot in the course. (This is not an additional fee).  We're happy to offer a 5% discount to those who pay their total before November 1st. In addition to the cost of the course, students are responsible for buying/bringing personal supplies like flashlights, work gloves, boots, etc.  Students are also responsible for paying for personal transportation to and from the farm, as well as housing and food when off site.
Please take note of our refund policies and our Frequently Asked Questions.
Related Events