Pura Vida Sunsets
· An Eco Village in Montezuma, Costa Rica·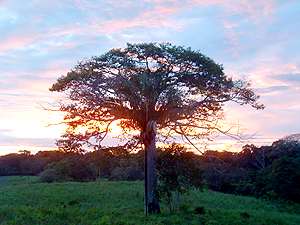 Welcome to Montezuma, Costa Rica, one of the most beautiful places in the world. Famous for its beaches, its wildlife, a center of Costa Rica yoga (for example, AnamayaResort.com, and its creative and artistic population of people who have moved here from around the world, Montezuma is a great place to immigrate, build a vacation home, or just to invest. So many people fall in love with Montezuma and the surrounding area, such as Santa Teresa and Malpais (More info here), that real estate prices have skyrocketed, making it almost impossible for many people to buy any land here. Pura Vida Sunsets is an answer to that problem. Our lots, on beautiful rolling hills, with spectacular mountain and sunset views, only a few minutes drive to the beaches, are affordable to most people. We are especially seeking artists and people who are attracted to sustainable living and communities.
In addition to being near the beaches of Montezuma, the beaches of Malpais and Santa Teresa are also within a twenty minute drive, as well as dozens of incredible restaurants, in these various beach towns.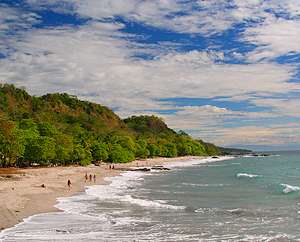 The first phase of Pura Vida Sunsets is ten lots, located on the "Pura Vida Road", which connects Montezuma and Tambor. The lots have public water and power, fully titled, and are ready to build. We are currently in the process of reforesting some of the land, adding butterfly gardens, some organic herbs, fruit trees, etc, to all the lots, helping to prepare them for our clients. The lots vary in size, but average 1100m2, which is just over a quarter acre. The price we have set on each depends mostly on the view from that lot, and its size.
So what is Green Building? Click here: Tropical Green Building for a detailed list of concepts. In general, green building is not just about high tech solutions like solar power and windmills. Green building is about making your house work for you to improve your life. It should be less maintenance, more relaxing to live in, as free from toxins as possible and hold its value better as an investment. Green building in Costa Rica is the fast growing segment of the construction industry, and all houses in the U.S. and Europe will probably be built "green" within a few years. When you go to sell your house someday, it will be worth much more if its built green now.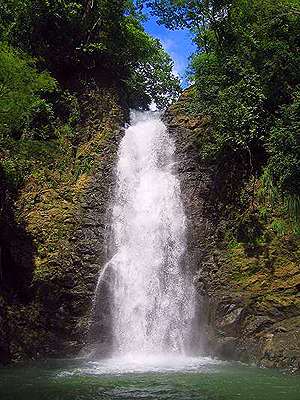 The core of green building is a keen understanding of the local environment – weather, topography, airflow, sun position, etc, and then designing a house to suit these conditions. One of the first precepts of permaculture is "prolonged observation" of the land, and this applies as well to green building. I've seen so many people hire architects that have never been to the area, and they make unforgivable mistakes.
The basics of green building are as follows. The following is a chart of challenges and solutions:
| | | |
| --- | --- | --- |
| Challenge | – | Tropical Greenbuilding Solutions: |
| Sunlight | | Use shade to keep the sun off the roof and walls. Cover walls with vines. |
| Heat | | Airflow or Thick walls (thermal mass) |
| Bugs | | Don't make homes for them. Keep design simple. Minimize crevasses and hollows in walls. No dark spaces like closed cabinets. Use nsect-resistant hardwoods like Melina and Teak. |
| Fungus | | Airflow and natural light. No closed spaces. Lots of windows. Outdoor showers |
| Power | | Natural Lighting (lots of windows), white, high ceilings, LED/CF bulbs, solar power. |
| Cleanliness | | Shiny-polished chemical free tucco walls, polished cement floors. |
| Water | | Low flow showerheads and faucets, dual-flush toilets, water recycling, rainwater harvesting |
| Waste | | Integrated Recycling bins in Kitchen, grey and blackwater treatment |
| Community | | Local materials, local labor, Local craftsmanship. |
For more information about Costa Rica in general, click here.
Some of our favorite sites are here.
Acerca de Nuestra Comunidad
Pura Vida Sunsets sprung out of a desire to be able to sell inexpensive properties to great people who just can't afford the high prices in the Montezuma and Malpais areas. Several years ago, it was easy to find a beautiful lot in the area for under $50,000, but now that's much more difficult. Lots of great people, who would have a lot to offer the community, are unable to afford anything. Our lots are smaller than what you used to be able to buy in this price range, but we are trying to make up for that by ensuring a great community.
We recognize the importance of eco-friendly construction for a community with small lots and so are making sure that all our buyers are great people who share our values. So far all the buyers are committed to "building green" and we see Pura Vida Sunsets becoming a showcase of eco-friendly and sustainable living for the area. A few of the houses are being built for re-sale. If you're interested in buying a completed eco-friendly home in the Pura Vida Sunsets community, please let us know what options there may be, or click here.
Geoff has an extensive entrepreneurial background, having started or managed several multi-million dollar businesses. A graduate of The Evergreen State College in Olympia, WA, Geoff also has a master's degree in Physics and is a professional fire dancer. The Southern Nicoya's primary "green-pusher", Geoff is also an owner of Tropisphere Real Estate. Tropisphere has donated thousands of dollars from its commissions to help the local community, especially in areas of wildlife conservation and education. Geoff, and his wife Yasmin and daughter Anika live in Montezuma. Geoff is active in his community, sometimes helping to give presentations on Costa Rica's wildlife at local schools, and is a founder of Rainsong Wildlife Sanctuary. Geoff is also part-owner and CEO of Anamaya yoga resort and wellness center in Montezuma.
Email Geoff
Claim Now!
Si este es su listado, Reclámelo!
Reclame su listado para gestionar las actualizaciones y para conectar con las personas que quieren su oferta.
Reclame Ahora!
Conectar con el Creador de Listas
Creador de listas de correo electrónico